REBT Info Video Theater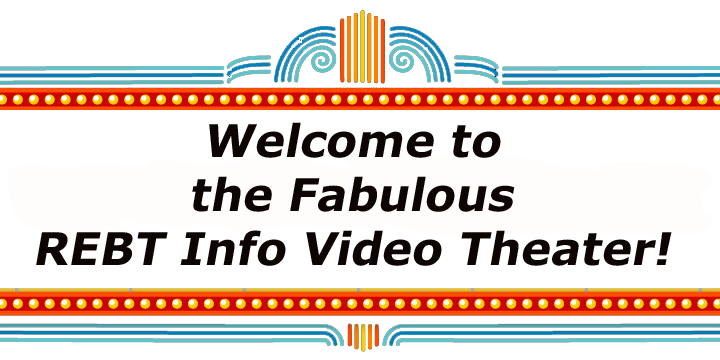 This is a work in progress.  If you know of any great REBT-CBT or related videos, please point them out to us.  Lets start with a classic from Dr. Ellis "Whine!" Humor 
Humor in the form of limericks  and songs is a tradition in REBT. A rational humorous song, used as a shame-attacking exercise, by Albert Ellis. Albert Ellis was an influential American psychologist who in 1955 developed Rational Emotive Behavior Therapy, one of the first forms of Cognitive-Behavioral Therapy.
I cannot have all of my wishes filled
Whine! Whine! Whine!
I cannot have every frustration stilled
Whine! Whine! Whine!
Life really owes me the things that I miss
Fate has to grant me eternal bliss
And if I must settle for less than this
Whine! Whine! Whine!
We hope you enjoy these videos as much as we enjoy bring them to you.  Considering Dr. Ellis's long life and prolific career well into the era of modern video technology, it is surprising that so little video exists.  Some of our offerings come from old, poor-quality films, others aren't really videos at all, but audio clips played over still photographs.  Please be patient and understanding, and join us in being grateful that these treasures are still available to us and future generations. Here are a few to get us started.  Please share your comments.
[huge_it_videogallery id="1″]
2,278 total views, 3 views today
How useful was this post?
Click on a star to rate it!
Average rating / 5. Vote count: