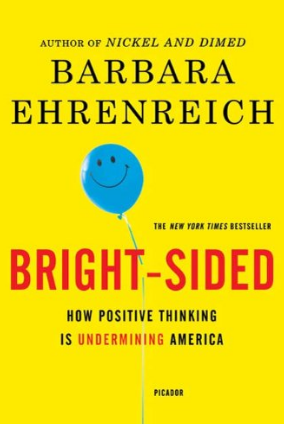 Bright-sided: How Positive Thinking is Undermining America, by Barbara Ehrenreich, challenges the cultural notion that positive thinking is always positive and good. The book argues that positive thinking, while important to some extent, has been taken too far in America, to the point where it has become a dangerous ideology.
Ehrenreich starts the book by telling her own personal story of battling breast cancer. She was shocked by the way cancer patients were expected to think positively and be grateful for the experience, as if it was some sort of gift or opportunity for personal growth. She argues that this kind of thinking is not only harmful but also insulting to people who are struggling with serious illnesses or life challenges.
The book then delves into the history of positive thinking, tracing it back to the 19th century when the idea of "mind over matter" first emerged. Positive thinking gained popularity in the mid-20th century with the rise of self-help gurus like Norman Vincent Peale and Dale Carnegie. It became a staple of American culture, with the idea that anyone could achieve success and happiness if they just had the right mindset and attitude.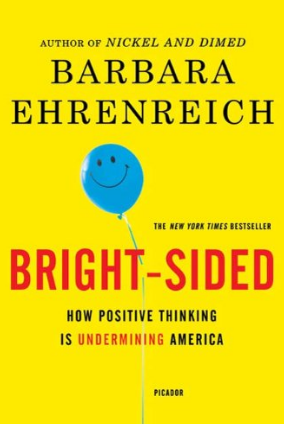 Click for more  info on Amazon.com
Ehrenreich challenges this idea, arguing that positive thinking can actually be harmful in many ways. For example, she notes that it can lead to a lack of empathy for those who are struggling, as positive thinkers often believe that people who are suffering must be doing something wrong or not thinking positively enough. It can also lead to a lack of critical thinking, as positive thinkers may be less likely to question authority or challenge the status quo.
One of the most striking examples of the dangers of positive thinking that Ehrenreich discusses is the subprime mortgage crisis of 2008. She argues that positive thinking played a key role in this crisis, as banks and mortgage lenders were encouraged to believe that housing prices would never go down and that anyone could achieve the American dream of homeownership if they just had a positive attitude and worked hard enough. This kind of thinking led to risky lending practices and ultimately to the collapse of the housing market.
Ehrenreich also explores the impact of positive thinking on the workplace, arguing that it can lead to a culture of exploitation and victim-blaming. For example, she notes that employees who are laid off may be told that it's their fault for not being positive enough or for not working hard enough, rather than recognizing the larger economic factors at play.
Overall, Bright-sided challenges the cultural assumption that positive thinking is always positive and good. Ehrenreich argues that while positive thinking can be helpful in some situations, it can also be harmful and can lead to a lack of empathy, critical thinking, and accountability. The book is a thought-provoking read that challenges readers to question their own beliefs about positive thinking and its role in American culture.
Khon Kaen, Thailand
4 May 2023
Originally posted 2023-05-04 10:15:54.
Latest posts by Rex Alexander
(see all)