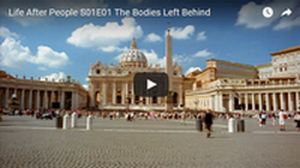 Please watch the wonderful-but-chilling and sobering 2015 documentary "Life After people"
It explores what would happen if human beans suddenly disappeared, how long it would take for the Earth to "reclaim" us and leave no trace that we human beans had ever existed. It is a mind blowing short period of time. How long do you think it would take? See for yourself.

Click on the blue link to watch the video and to join the discussion and let us know what you think.