| | |
| --- | --- |
| |  Will practicing REBT turn you into a Pollyanna ??? |
When we are working with the problem of being upset about the way someone treated us, it is REBT 101 that we eventually get to the assertion that there is no reason why Sally absolutely must treat is in a kind way. However, this is only 50% of the dispute, and some inadvertently or deliberately skip the first part, the "E" in REBT. This short-circuits the process, is like weak beer without the fizz, and becomes some technique different than REBT. 
The first-and-so-important step is something to the effect of. . . 
"Although I strongly prefer that Sally treat me the way I want to be treated . . . then we embrace, "but there is no reason why she absolutely must treat me in a kind way!"
We find this motif, possibly with somewhat different language, occurring one way or the other throughout our practice of REBT.  It is the principle, the dynamic that is important. REBT does not counsel or teach us to become "Pollyanna," cheerful in the face of misfortune and challenging events.  Nor does it course or teach us to become like "Star Trek's" Mr. Spock, who suppresses all emotion so that he can deal with the world exclusively by logic.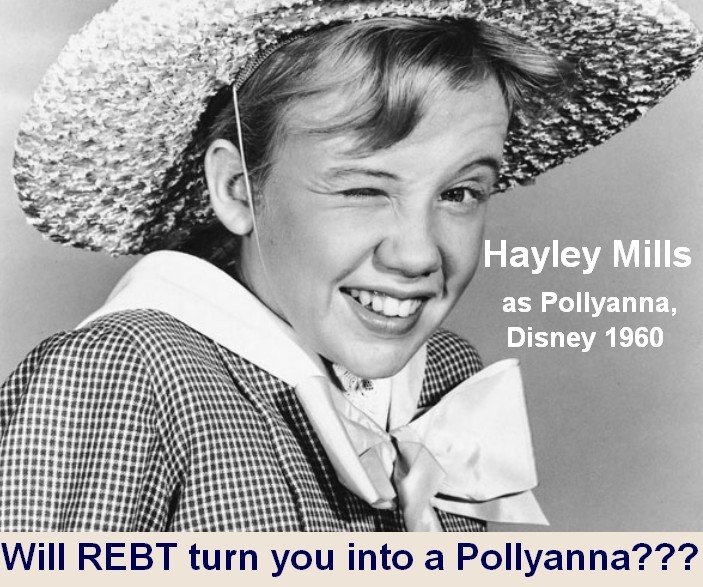 The real "secret" of REBT is NOT attempting to get rid of emotions, but rather learning to distinguish between healthy and unhealthy emoting.  It is perfectly natural, normal and healthy to be annoyed or concerned or sad when Sally treats us in an unkind way.  Depending upon the nature of the "A," the activating event, and how close we are to Sally, we may be quite annoyed, concerned or sad indeed.  BUT, that is not at all the same thing as "magically" magnifying that emoting into inflammation, anger, resentment, bitterness, anxiety or depression.  The "magic" in this case is applying our IBs (irrational beliefs), distorted thinking and unhealthy automatic self-talk convincing ourselves that Sally absolutely MUST not do as she does . . . and when she does, it is TERRIBLE and AWFUL and that we CAN'T STAND IT.
| | |
| --- | --- |
| | |
| | |
Depending upon how you were raised, what you learned and what you internalized about emotions as you were growing up, what we have just described may seem confusing.  If so, that is only because you have never learned to properly distinguish healthy and unhealthy emoting and the intimate relationship to your thoughts, beliefs, attitudes and philosophies of life.  However, we can learn to distinguish and to make progress by doing our ABCs or Three Column Technique or other processes. Mindfulness meditation can help.  And as with all good things in life, practice pays off.
3,209 total views, 1 views today
Originally posted 2016-12-30 03:55:27.
Latest posts by Rex Alexander
(see all)