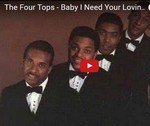 Baby I Need Your Lovin'|
Baby, I need your lovin'
I got to have all your lovin'
Baby, I need your lovin'
Got to have all your lovin'
~The Four Tops, 1964     
Awwwwww!  Ain't that romantic?  Don't that just make you feel all warm and fuzzy inside?     Ain't it the truth?
Cli

ck the blue link below to see the answer and to watch the Four Tops music video 
  No!  Not!  Nope!  Nada!    Sure, it is great classic music, and it may be romantic.  To be sure, it  expresses a sentiment common to lots of popular music.  But it is not REBT and it is not the truth, although it certainly pisses people off when they hear me say it!

A student grapples with this admittedly difficult issue:  "so how I can not need friends and a girlfriend to feel happy?  (Because)  that is what I want to feel happy!
Elevating things such as love and friendship to the level of a NEED rather than a strong preference is ultimately a choice you make. You may choose to regard things in life as needs or preferences. No one can make you. And we are only dealing with a point of view, an attitude, not some kind of absolute reality. You choose.
The problem with elevating friendship, et al to a need is that all that yearning and yearning and yearning and pining and whining feels crappy , and it doesn't work very well in any case. It makes you feel desperate and that effects your ability to deal effectively with your problems. Equally important, neediness is a turn off to most people, I reckon. It is easier to get a job, for example, if you are already working and don't need one. And if you have been unemployed for a long time, the "stink of desperation" you carry around with you is almost palpable, and is unlikely to charm potential employers. Same, same with dating and mating and making friends. People who come across as "needy" are not attractive . . . except to people who seek to control and manipulate them.
With a preference, if you don't get what you want, it is disappointing.  Depending upon how strongly you prefer this thing, it may be very disappointing, very frustrating,  very painful.   However, the sadness of loss and disappointment is healthy and normal,  and more important, temporary.  You don't die or go "crazy" or shrivel up over it.   Not so with a need, however. Needs, such as food, water, shelter, basic nurturing, protection, affection as an infant are indeed musts, things that you absolutely must have or you will indeed die.  In this way, elevating strong preferences to the level of need is making powerful and unrealistic demands on life and on other people . . . or else!  Or else I'll die.  Or else I'll never be happy. Or else, I'll never be able to cope.  And it will be your fault!   (or God's fault.  Or life's fault.  Or the fault of my rotten luck).  Needs are unrealistic because they are out of your control; it is entirely up to Sally whether or not she returns your love, or in fact does anything that you want her to do.  By making her love a need, you have given Sally the power.   At it's simplest, if you operate at the level of needs, you are screwed if you don't get what you (think you) need.
So, there is every good reason to switch from needs to preferences, but your journey may seem like a trek across the desert. Or it may happen in an instant if you "get it" and decide to begin operating on that basis. However, it is entirely up to you.

And with all due respect to one of my idols, Mick Jagger.  Sorry Mick  🙄 
No, you can't always get what you need.  But if you try sometime, you just might find you get what you want. 
Maybe not as "lyrical" as the original, but definitely more rational and much better REBT!
If you are interested in pursuing this further, a very  good place to start is "Intimate Connections" by David Burns which you can pick up for a couple of bucks on Amazon.com .  It is one of the best treatments of the subject I have read, and as a bonus provides a very good "crash course" on the principles of CBT so that you can apply them to what you are learning in the book about how to connect with people.  Highly recommended!
Aside from really solid social skills training and even tips on grooming, David deals really well with this issue of neediness. The book is also a primer on how to use CBT(Cognitive Behavior Therapy) , so you get a lot of bang for your buck.
But please don't try to solve all of your problems at once. Be specific and systematic and happy that you are choosing to deal with this issue.
Cheers,
Rex
Khon Kaen, Thailand
4,283 total views, 1 views today
Originally posted 2013-03-27 08:08:01.
Latest posts by Rex Alexander
(see all)