I have been thinking about shopping malls as "dopamine factories." Neon and other bright, colorful, "noisy" stimuli dopamine  neurons . . . 
Dopamine is a brain chemical involved in many different functions, most notably pleasure, reward and addiction. Cocaine is addictive not so much because we become addicted to the cocaine, but rather we become addicted to the hit of dopamine, and when we don't have it we want more cocaine to get more dopamine.  Cocaine and other mood altering drugs are the brain's way of getting more dopamine!
If you have not thought about it, malls and similar chaotic, stimulating environments act on our brains in a very similar way. There is  activity going on all around you. You are surrounded by bright lights, chrome, glass, mirrors, lurid candy colors; bells and whistles and dinging sounds coming from video games and music shops. Neon signs complete for your attention, pointing to temptations of endless promises of SUGAR, SUGAR and more SUGAR, and other simple carbohydrates. sweets, snacks and fast foods. Modern malls are often designed with weird angles and unusual geometric spaces, escalators and corridors jutting off at unexpected angles which can be very disorienting for some people.
None of this is accidental. All of this (especially the tsunami of sugary, fatty snacks) works together to scream Dopamine! Dopamine! Dopamine! It is why you keep coming back . . . because why on earth would anyone in his or her right mind be attracted to the chaotic environment I have just described? Stimulation! Stimulation! Stimulation! Las Vegas casinos operate on similar principles, but with few exceptions, people are exposed to these environments only occasionally while on holiday. Malls, on the other hand, can provide a daily dopamine hit.

All of this really hit home this afternoon as I walked through Central Plaza in Khon Kaen–modest compared the Mega Mall in Bucharest, Romania in the photo–in but still pretty flashy. I was riding down the glass elevator from the top floor to the basement, pretty "trippy" all by itself. There were two young women in the elevator with me. One had a delicious-looking chocolate dipped ice cream cone in her right and was looking at the screen of her smart phone in her left hand while (sort of) having a conversation with her friend, and was still able to (Ah, shucks!) flash me a flirty little smile I kid you not! Oh, how I wish I could have gotten to my own phone in time to take a photo.
|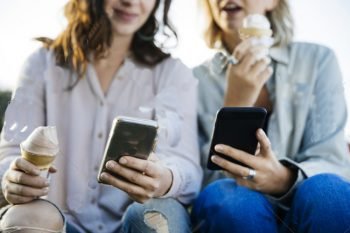 |
| | |
| --- | --- |
| | |
| | |
The problem with artificially activating dopamine by drugs or by malls or by gambling casinos is the inevitable crash which leaves us craving more dopamine. However, today's trills become tomorrow's "Oh, hums." We wonder where all this is leading and where the constant need for stimulation will take us as a culture in the next 50 or 100 years.
Sigh!
How about you?  Do you find malls stimulating, draining or both?
Originally posted 2017-02-07 07:36:45.
Latest posts by Rex Alexander
(see all)