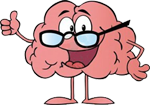 This is a follow-up to my post from last month "What if you only understand your REBT process intellectually?"
In REBT, obviously, language is important, essential even.  However, in my opinion persuading yourself that your IB's are truly irrational, unhelpful, often just a bunch of silly fantasy is more important than how cleverly or how perfectly you word your exercises.  Likewise, really believing that your rational replacements are true is more important than clever language.
In the end, it is all about what we believe, actually believe down in our bones, not about filling out forms.   Beliefs are the currency we use in REBT.  However, unlike religion where beliefs are based upon faith, in REBT beliefs are just as passionate as those of a Christian, but are based upon  "wet," deeply persuasive, logical, rational argument, not faith.   So, yes, please continue to do your written exercises.  But try also getting up and walking  around, even storming around a bit, do your exercises aloud, put some heat  into it.  I wrote something the other day  about the "empty chair technique" in conjunction with REBT in the post I linked to above.  Have a looksee.  It may be helpful.
Cheers,
Rex


PLEASE ADD YOUR COMMENTS, QUESTIONS,
OPINIONS IN THE BOX BELOW. WE

 HEARING
FROM YOU!