I am quite frankly amazed that A Guide to Rational living, the classic, basic text of Rational Emotive Behavior Therapy (REBT) by its founder Albert Ellis is still not available in a digital edition. 

This is very unfortunate.  If, like me, you are an Albert Ellis/REBT booster, you would like to see millions more people having this important document easily and instantly available on their smartphones, tablets and computers; reading and doing their ABCs on the bus, having coffee, taking a break, everywhere! The book is nearly 60 years old now, and we don't ever want it to become difficult to obtain.
Fortunately, Amazon.com has a feature where we can ask the publisher of a paper book to consider putting out a Kindle edition. If you click the "Tell the Publisher!"  button below, a new window will open registering your vote and thanking you for your request.  This does not obligate or commit you to anything, it merely registers your vote.
I would love see everyone vote and perhaps, together we can get  a little campaign going and get the publisher to take action.  Thank you for your support! ~Rex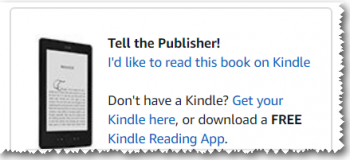 1,433 total views, 1 views today
Originally posted 2018-12-04 05:37:40.
Latest posts by Rex Alexander
(see all)