This from an old friend from the REBT-CBT-FORUM@yahoogroups.com whom we have not heard from for a long time.  This person has been struggling with anxiety and although works diligently applying REBT-CBT techniques, does not appear to be getting much traction. Although I am not psychic, I think I may have an idea as to why.
Kindness is the cause of all anxiety.
~Dr. David M. Burns
---
I have never run across this enigmatic quote by Dr. Burns before today. Anyone familiar with it? What on Earth do you think it means?
Disney is putting virtual reality on it's new roller-coaster to enhance the experience. My gawd! Isn't the reality of the roller coaster experience stimulation enough already???
Do you feel panicky or dull when you do not get your usual dose of stimulation? Me thinks we are all becoming just a little bit "faux-ADHD" in the modern, digital world.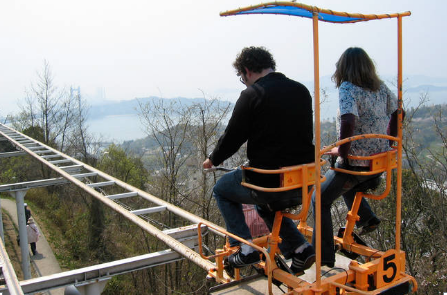 Do you find roller coasters and "thrill rides" to be stimulating and exciting or frightening and enervating?  Click the link below to share your comments.
Please view and download or print the Beck Anxiety Inventory You may use this inventory weekly or more often and the fact that you have taken in previously, even many times, will not skew the results.
Disclaimer: This inventory provides a very quick and accurate measurement of your mood at any given time. However, it is intended for education and entertainment purposes only, not to diagnose or treat any illness or mental health condition. If your results indicate anxiety, we strongly recommend that you consult with an qualified mental health professional read more